Ever had such an annoying message given by Windows?

It has many other flavors:

Cannot delete file: Access is denied

There has been a sharing violation.

The source or destination file may be in use.

The file is in use by another program or user.

Make sure the disk is not full or write-protected and that the file is not currently in use.
Unlocker is the solution!
1. Simply right click the folder or file and select Unlocker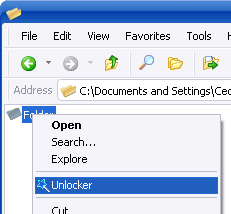 2. If the folder or file is locked, a window listing of lockers will appear

3. Simply click Unlock All and you are done!
Similar programs and why Unlocker is better
Of course I only compare here the unlocking features. Process Explorer and Take Control are very good programs featuring much more things than just unlocking folders. The goal of this list is not really to pretend Unlocker is better but instead to provide a list of all other alternative programs in case you have some difficulties with Unlocker.
Application

Close




handle

Kill




process

Unload




DLL

Delete




index.dat

Delete




Rename




Move

Invalid




Names

Without




reboot

With




reboot

Context




Menu

Command




Line / GUI

Free

Unlocker 1.9.2




by Cedrick Collomb

Process Explorer




by Sysinternals

FileASSASSIN




by Malwarebytes

LockHunter




by Crystal Rich

OpenedFilesView




by NirSoft


























UnLock IT




by EMCO

Advanced Process Manipulation




by DiamondCS
Download for Windows 2000 / XP / 2003 / Vista / Windows 7 – Unlocker is Freeware
MD5: 33408f35623dc5bb4a3bde09fa45f86b /

SHA1: 73c98f1721958026beb496bfcf15fb9a28b3b7a0

MD5: 8f7da0d01afd03a1e366a72c231fb3fc /

SHA1: e8abf005d2f7658f81b1ed29a0c426f9a63637f2